CuraScript SD: Supporting Our Community
Posted Thursday, April 19, 2018
Did You Know? CuraScript SD supports several charitable organizations throughout the year by donating money, school supplies, toys and more.
Paying It Forward
CuraScript SD is proud to support many nonprofit organizations benefitting the community.
01 | Community Comes First
In addition to CuraScript SD's commitment to our customers, our employees are also dedicated to supporting our community, and we have demonstrated this commitment over the years by supporting many charitable organizations. The following are just some examples of how CuraScript SD has demonstrated a volunteer spirit and impacted our community.
02 | Red Bag Food Drive
Every year, CuraScript SD participates in Central Florida's Red Bag Food Drive, filling bags with non-perishable food items for local families in need. In 2017, we collected nearly 500 bags (over 7,000 items), which filled three local school pantries that provide food to families in Seminole County Public Schools.
03 | Toy Drive
The New Hope for Kids Foundation provides assistance to children and their families during some of life's most difficult challenges. They offer support services for family events, resource information and referrals to other agencies for assistance when necessary. CuraScript SD employees donated over 200 toys to the Foundation in 2017.
04 | School Supplies Drive
Each year, employees donate items to help Seminole County Public School families. Students who are less fortunate are provided with donated supplies needed to succeed in their academic school year. Seminole County Schools also opened their doors to more than 150 families leaving Puerto Rico due to the hurricanes that impacted the island, which left many schools destroyed on the island.
05 | United Way
In 2017, CuraScript SD surpassed its site goal of $5,000, with employees donating a total of $5,814. This money was included in the total collected by our parent organization, Express Scripts – $140,000 in total contributions – to benefit local United Way chapters.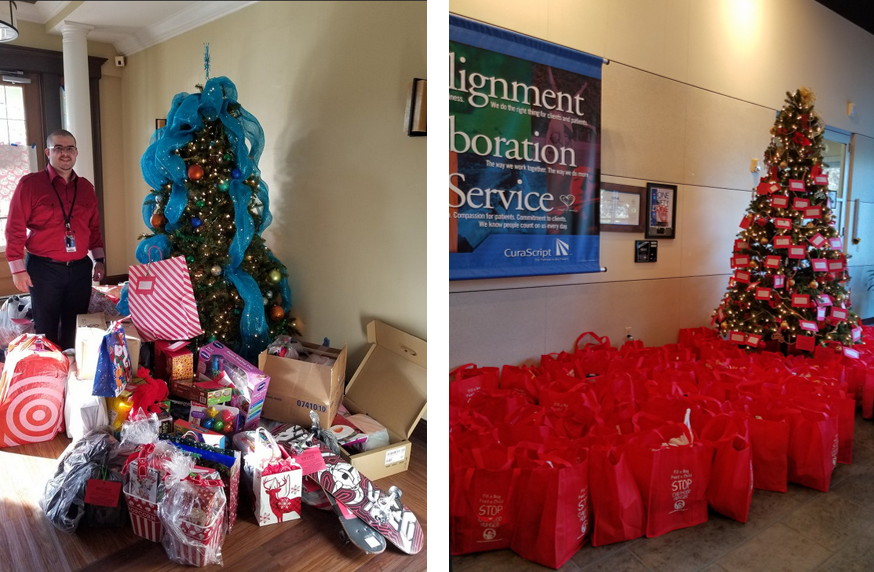 CuraScript SD is proud to support these and many other nonprofit organizations.
Learn More
For more information about our products, practice solutions and to request a quote, click here.